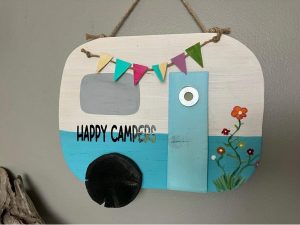 After last summer's successful drift wood art, we have partnered back up with Bits and Pieces, out of Salisbury, NB to host another craft day.
July 9th from 11:00am- 12:30pm, we will be in the Rec Hall creating a cute, partially assembled, wooden Camper.
This 10inch by 8.5 inch wooden camper can be decorated with your own unique style.
Class is open to 10 years of age and up (younger can attend, would just need to be accompanied by an adult.)
Price is $25 cash and can be dropped off at the campground store. We, unfortunately,  cannot take etransfers/debit/credit, as this is going directly to the hosting company.
We require 15 people to make this event happen.
Register here or at the campground store